BREYDON's FLUID DYNAMICS (2017)
March 2021.
Updated 20 July 2021.
A three‐page comic from DEAR EATEN FISH letter. ii.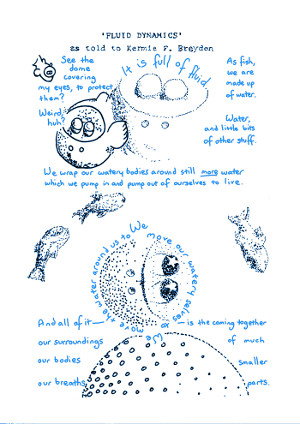 1.

Download the comic

2·4 MB P.D.F. file: Fluid Dynamics (plus coverpage)

Read it, teach it, critique it, translate it, adapt it, share it, or take comfort in it. If you are in a position to do so, please contribute something to refugee rights movements in your region.

The comic Fluid Dynamics © 2017 by Kermie F. Breydon (they/them/their) is licenced under a Creative Commons BY-NC-SA 4.0 License
. Individual licences under more permissive terms are available by arrangement.
2.

Historical context

Dear Eaten Fish was "an artistic open letter of love, defiance and solidarity from Australia to Manus Island", compiled by Jini Maxwell for fellow cartoonist, Ali Dorani. The beautiful, blue‐risographed letter ii debuted at the National Gallery of Victoria's 2017 Melbourne Art Book Fair, with full proceeds from sales of the zine helping finance healthcare urgently needed for refugees in Port Moresby.

The Australian government had illegally imprisoned Ali in its notorious system of concentration camps. Taking on the pen‐name Eaten Fish, Ali reported from the inside through his art. His frank, big‐hearted cartoons exposed harassment and violence, and encouraged international condemnation of Australia's systemic human rights abuses towards people seeking asylum. By 2017, Eaten Fish was in dire need of complex, specialised medical treatment. The Dear Eaten Fish zines arose from a broader campaign to get him freed and properly supported.

Ali was finally hospitalised later that year. He went on to find refuge in Norway. The shutdown of the Manus compound, where he had been kept prisoner, would be protracted and fraught. For many immediate victims of Australia's macabre immigration policies, the struggle for freedom and for safety continues on into a new decade, in other institutions. Meanwhile, the political precedent for responding to appeals for safe haven with industrialised torture lingers in the global conscience. So too does the capacity for kindness and accountability.

Contemporary accounts of the period may be found in works such as these:
3.

Transcript
'FLUID DYNAMICS' as told to Kermie F. Breydon
A deep‐sea fish, Macropinna microstoma, models its distinctive facial anatomy. Text eddies across the ocean, in sympathy with its ideas.
MACROPINNA MICROSTOMA:
See the dome covering my eyes, to protect them?

Weird, huh?

It is full of fluid.

As fish, we are made up of water.

Water, and little bits of other stuff.

We wrap our watery bodies around still more water which we pump in and pump out of ourselves to live.
The fish performs gentle acrobatics. Bold outlines have made way for stippled shadows, which gradually present as tiny individual blobs. Phrases loop back on themselves, as the fish propels itself around in a slow barrel roll.
MACROPINNA MICROSTOMA:
We
   move our watery selves to
We
   move the water around us to

And all of it —   ⸺   — is the coming together
our surroundings   ⸺   of much
our bodies   ⸺   smaller
our breaths   ⸺   parts.
Scattered particles funnel together into a mass of demonstrators.
PROTESTING PARTICLES:
Bring them here!

Close the camps!

We can't stand by!
MACROPINNA MICROSTOMA:
When lots of bodies come very, very close together…

The crowd starts to move like a liquid.

Actually, if there is an extraordinary amount of pressure, the liquid becomes like a solid. (Never pack people too tightly!) To help keep everyone safe at big events, organisers put in barriers to interrupt the rippling
 ⸺ turbulance chaos ⸺ 
that otherwise
 ⸺ waves ⸺ 
spreads through huge crowds
The text and particles are demonstrating the fish's words.
MACROPINNA MICROSTOMA:
I hear a similar thing happens, where people can pour a cupful of dry seeds. Each tiny seed is like
one person
carried along by the many around them.
The fish swims on. It is little, against the void.
MACROPINNA MICROSTOMA:
Deep in the ocean I am alone a lot.

Where are my fellow pips and pulses?
Distant squiggles of energy.
MACROPINNA MICROSTOMA:
Maybe I am tinier. Like an atom.

There can be big gaps between atoms.
The fish and distant pulses are in a vast dance together.
MACROPINNA MICROSTOMA:
Or maybe I am smaller still.

Drifting in the atom.

A crucial part. One of many. All us waves.

Then I feel like…
… we are full of gaps and wateriness…
…but also, our world, our "water",
is made out of us.
This conclusion is underlined by a journal‐style author bio:
Macropinna microstoma is an amateur physicist from the Northern Pacific. It likes jellies.